Recipes
Add to My Cookbook
Hake with raisins and pine nuts
Carbohydrates Vitamins Dietary fiber Calories Fats Protein Sugar Salt 33.5 g -- 0 g 401kcal 19.6 g 20.5 4 g 0 g

Prep:

00:40 m

Portions:

1

Main Course

On cookbooks

7

Followers

5

Recipes

1
• Hake
• Pine nuts
• Raisins
• Onions
• Tomatoes
• Vegetable stock
• Olive oil
Steps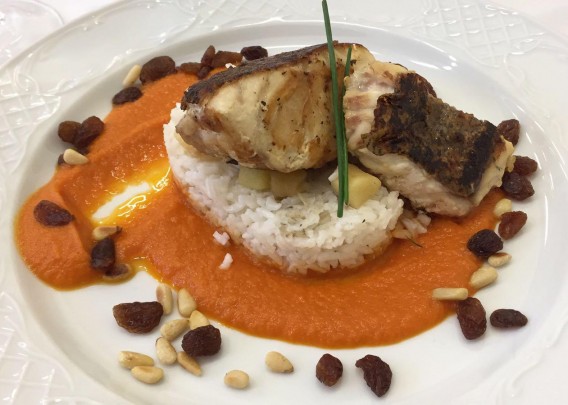 •First, fillet the hake.
Sear the fillets in a frying pan with a little olive oil.
Reserve.
•Second, brunoise the onion and grate the toma-
toes. Add in a frying pan over low heat and cook
slowly for about 15 minutes.
• Then, add the raisins and pine nuts and toss. In-
corporate the reserved hake fillets. Add the vege-
table stock and simmer everything for 2 minutes,
so that the flavours mix well.
• Finally, place the hake with raisins and pine nuts.